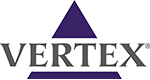 Medical Information Request Form for Healthcare Providers
This form is for Healthcare Providers (HCPs) only. Please fill in the medical information form below and click submit.
Your personal information will be collected by Vertex in this form to enable us to address your inquiry or request. Your information will only be used for this purpose. If you report an adverse event, we will need to use the information that you have given us in order to meet our regulatory requirements in relation to the safety of our medicines. It may be necessary for us to share your information with Vertex affiliates, partners and regulatory authorities located in countries besides your own. Vertex has implemented measures to protect the personal information you provide. You can use the contact information on this website for any questions you may have about the use of your personal information. For more information about Vertex privacy policies and practices, visit the Privacy page.
*Fields marked with asterisk are required